Success Story – Youth are Healthy 2017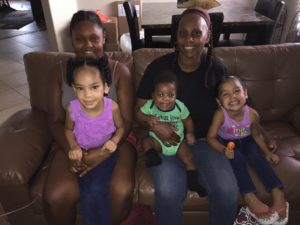 Harriet Wesley has always felt strongly in protecting those who are less fortunate than herself. Her first experience in caring for children in foster care hit rather close to home when Harriet was asked to care for a child whom she was related to. At that time, she had been approved to serve as a foster parent with A Coming of Age Foster Family Agency, when she was informed that her niece had been placed in foster care in San Diego County.
Harriet was the sister to the biological father of this child and had known that both biological parents of her niece had suffered some developmental delays. There was a concern that her niece may also have some of these same delays that the parents had. Although this child was placed in a foster home in San Diego County, Harriet immediately stated that she wanted to care for her "family" and did not care about the problems that this child may have as she would make sure that this child was healthy. CPS also informed her that the biological mother was pregnant with a second child and would give birth in the future. Harriet immediately stated that she would care for that child as well upon the child being born.
Both children were placed with Harriet who immediately began obtaining services to ensure that they would grow up HEALTHY! When the opportunity came for Harriet to make a firm commitment to her nieces, she chose to adopt both girls to ensure that they would receive the love, compassion, and appropriate services to ensure the would be developmentally healthy and cared for. Harriet still serves as a Resource Family with A Coming of Age Foster Family Agency today where she is in the process of adopting a third child who has been placed in her care.